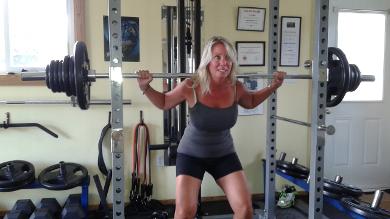 7 months later....
I've been working with Tom now for 7 months and have seen amazing results in that time. WOW!!! Working out has never been so fulfilling (or fun)! It's the changes you notice in your body over time that are so rewarding after all that hard work and effort. I'm noticing new muscles I never thought I'd have.
With all the positive feedback and encouragement from Tom, I'm now lifting heavier weights (more pounds than I could have ever imagined). I have never felt stronger or healthier.
Goals are very important and Tom makes sure that you always have a personal goal in sight (whether it is big or small). Tom knows just how to inspire you and pushes you to reach that goal. Once you do, it's such a feeling of accomplishment! Then …. on to the next goal!
What I love about weight-lifting is you still get tons of cardio with it which many people don't realize.
I'm definitely addicted and can't get enough. Tom always has a variety of workouts planned and keeps things interesting. When the nice weather hits, we step outside for some exercises.
Tom's instruction, determination and motivation is top notch! Thanks so much for getting me to this point!!
Exciting day for me today – my goal was to squat 200 lbs. I reached that and more – 210 lbs!!! My new goal that I'm hoping to achieve by the end of the summer is 250 lbs.
So….. I better get back at it. I'll talk to you soon – stay tuned.
Danette